Surf Yoga Portugal Surf School
The Surf Yoga Portugal Surf School, based in Ericeira, has the license nº 414 from the Portuguese Surfing Federation (FPS). We are completely passionate about surf coaching and our mission is to make you a better surfer every day.
We have a strong focus on the following areas, to provide you a great memorable time:
Fully qualified surf coaches from the Federação Portuguesa de Surf (FPS), local surfers, that are in the water with you assisting in every step.
We offer the best equipment to assist your surfing journey. From warm wetsuits to a complete range of board selection as soft boards, short boards and longboards.
Surf safety and ocean awareness is our highest priority. Insurance is also included during all the period that you are with us in the water.
Fun! In the end, thats all that matters :)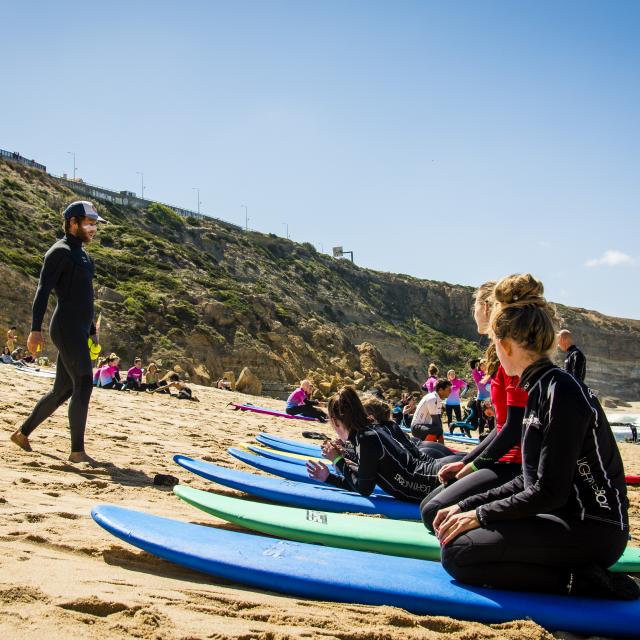 Surf School in Ericeira
At Surf Yoga Portugal Surf School our coaches will get you to that next level of surfing.
Our surf school is ideal for a variety of circumstances: from beginners who have never ridden a board to advanced surfers who want to push their level.
Each class has the duration of 2 hours in the water, being all the material (surfboard, wetsuit and booties), beach transfers and insurance included. Apart from the time in the water, its given a lot of importance to the warm-up, theoretical approach and teaching, and stretching after the surf.
According to your level, you will learn from safety in the water, paddling, standing up, surf green waves and basic to more advanced turns. In order to follow up our surfing experience, every day we check your progresses and we give you the right equipment to help you to perform better, always according to the surf conditions. Every day we check the best spots and conditions to run our classes, to provide you the best time in the water, in complete safe and funny environment.
We are very sensitive about the amount of people that stays with each surf coach, being our operational average (95 % of the time) 5 students to 1 coach.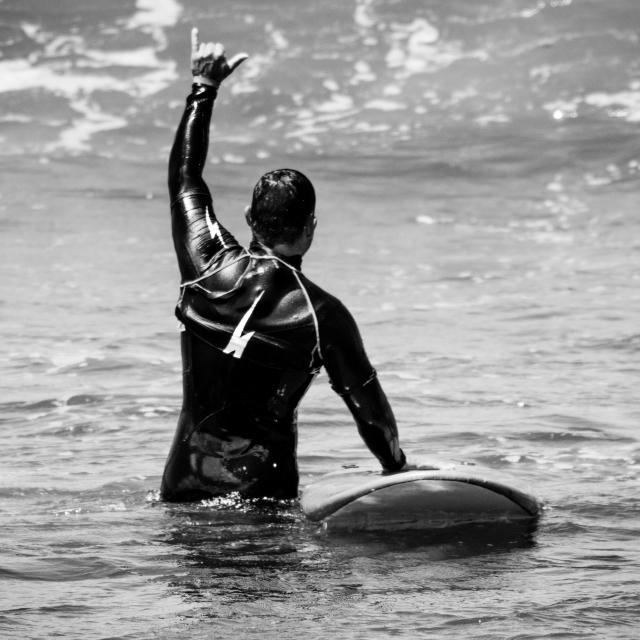 First Steps - Beginner - Level 1
We provide efficient surf lessons for beginners, that will develop your surf skills while ensuring full safety for you in the water. Learn how to surf with us and we promise you, it will only take you one wave to get hooked! Oh we guarantee, this is going to be fun:)
Surfing has a very steep learning curve. Understanding the basic techniques from the start is key. Even if you have taken a few lessons here and there, you might have a lot more to learn at this level of coaching. The difference is that you will have a whole trip with the same surf coaches that will get time to know how you surf and what you need to improve.
Here´s what you can learn with Level 1:
Basic surfing equipment
Security aspects
Surf etiquette
How to pop up on a surfboard
What is a proper surf stance
How to swim through the white water
Paddling techniques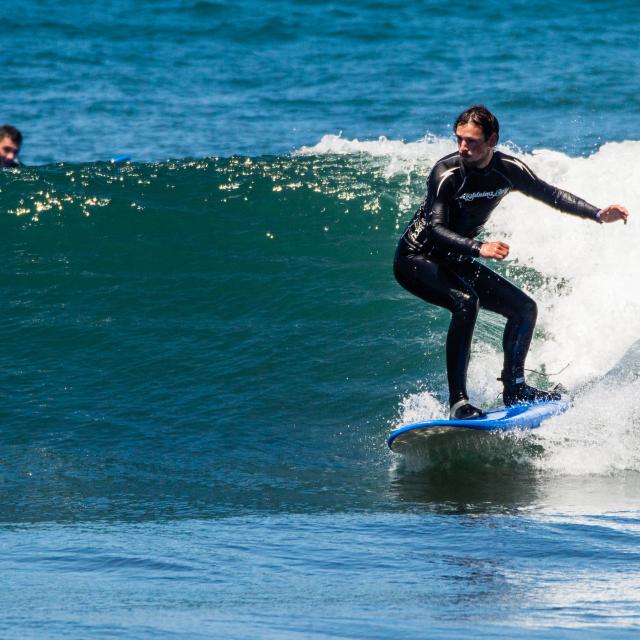 Learn to Surf - Beginner to Intermediate - Level 2
Surfing is addictive. This coaching is designed to identify the important changes you can bring to your technique that will end up making a huge difference in your surfing, and the fun you have in the water! You will receive personalized tips on how you surf and what to improve.
According to your level, here´s what you can learn with Level 2 coaching:
Surf etiquette
Review the basics for beginner surfers
Improve the take off and paddling techniques
Improve your Surf stance
Improve your positioning to catch more waves
Learn how angle your take off left and right
Learn how to turn left and right
Learn how to generate more speed (pumping)
Lear how to pass the white water (turte roll)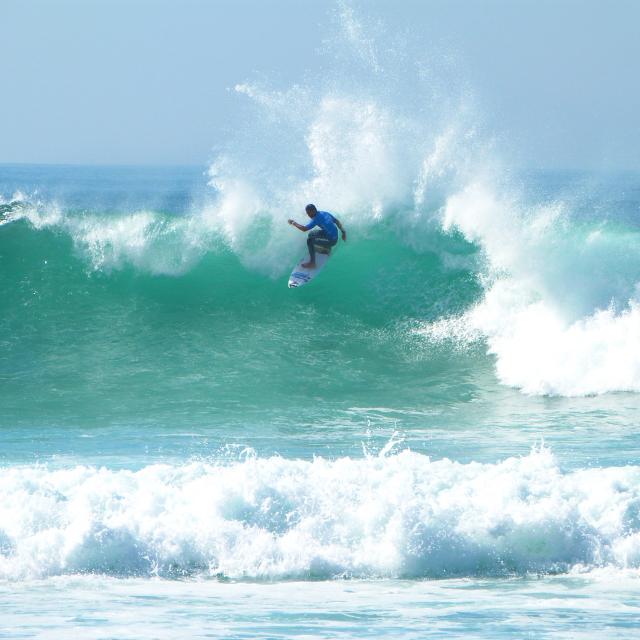 Develop Skills - Intermediate to Advanced - Level 3
The Level 3 will give you the first contact with green unbroken waves. In order to benefit from Level 3 tips, you need to be comfortable paddling through the white water and being completely comfortable with the basic surf techniques approached on the previous levels. Depending on the conditions, the surf coach will be next to you in the water or filming your surfing from the beach.
Level 3 will learn how to:
Read the surf conditions in different surf spots
Pass unbroken waves (duck dive)
Catch unbroken waves (green waves)
Pop up at the right time (green waves)
Bottom turn
Generate more speed (trimming / S curve)
Be independent in the line up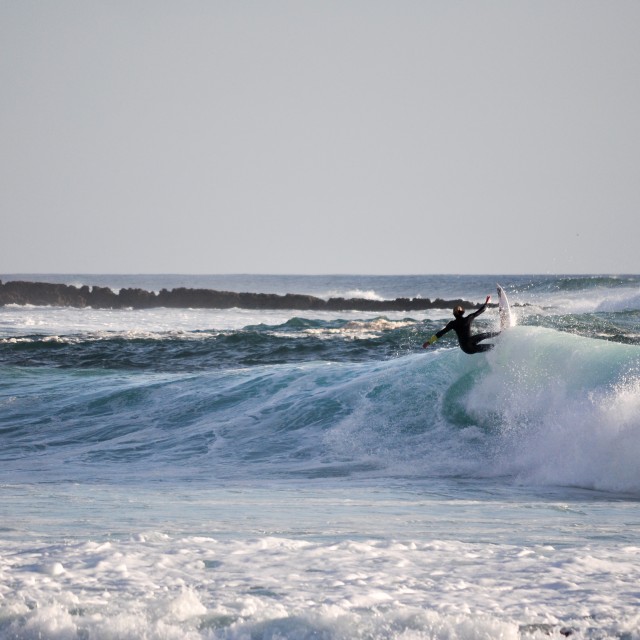 Advanced Surf Coaching - Level 4
The main difference between Level 3 and Level 4 surfers is their autonomy in the water and the way we will coach you. In this level, you should be a completely independent surfer, able to surf both sandy and reef bottom breaks comfortably on your own, while the coach is filming. According to your skills, we will adjust the surf coaching training and in the end of the day we will analise the videos and give you tips on how to improve.
Some aspects that we will focus our training on:
*Improve your carving turns:
- Bottom turn
- Cutback
- Carve
- Roundhouse cutback
*Improve your top turns:
- Snap
- Floater
- Re-entry
- Off the lip
* Improve your positioning to catch better waves
* Generate more speed on mellow waves and be able to go behind the peak on the hollow waves
Group and Private classes
Get a personalized surf coaching, from beginners to advanced surfers, with your own instructor in our Private lessons. You can't go any better than 1 on 1 private lesson. This is the fastest way to learn how to surf or to improve your surfing with 100% of your coaches attention focused on you.
You can also create your own private group lesson, or book your crew party for a surf lesson. Bigger groups are also welcome.
We'll take you to the best spot according to the conditions of the day for an unforgettable surf session. Improve your level while discovering new spots on the World Surfing Reserve.
For us, the most important is that you feel comfortable and safe, enjoying your wave riding, improving your surf skills and of course, have the fun of your life with your old and new friends.
We book the surf lessons to fit your schedule, and all equipment is provided.
Each private class is 80 €.
For groups ask us for a quote.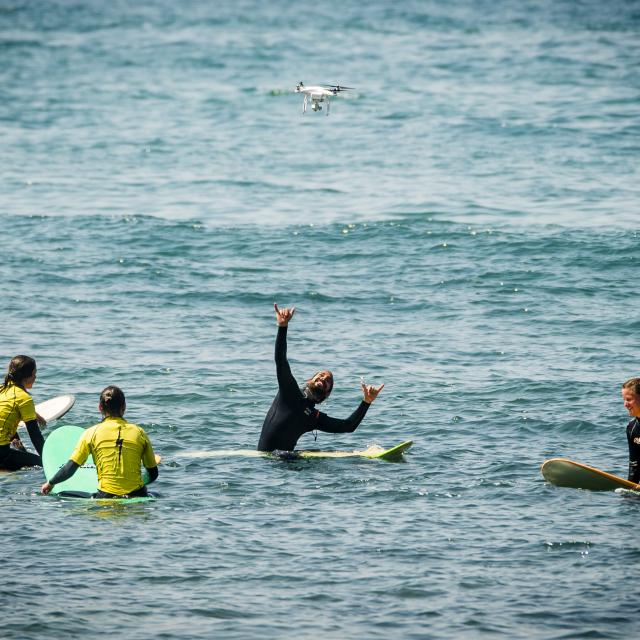 Video and Photo Analysis
We also provide a photo / video analysis if you wanna get some footage. We believe that being able to see how your surfing is, its incredibly helpful to your surfing progress, no matter what the level. Our surfing analysis will help you to show you where you are going wrong so you improve your techniques for your next lesson.
There is nothing more powerful than seeing yourself on footage to improve performance. By comparing your technique we are able to see how best to alter your technique to ensure you get the most out of each and every wave. Being used all around the world for a variety of different sports, video analysis coaching is an incredibly valuable tool for surfers wanting to move to the next level.
Each surfer will get a detailed analysis of their strengths, but mainly their areas for improvement through constructive feed forward. We use easy to understand analogies that allows the surfer to focus and remember exactly what they need to work on in the water.
Each Session of 2hours of your surfing on film or photos sent directly to you costs 60 € / person.
Ericeira World Surf Reserve Spots