Yoga Studio in Ericeira
We welcome you to our Yoga Studio in Ericeira, a great energetic space fully equipped with all the props needed as: mats, blocks, straps, cushions and eye pillows!
Our aim is to help our guests experience truth, love, inner peace and enlightenment that is found through a healthy mind, body and spirit.
Leave the stress & anxiety behind and explore with us the oneness with self and enlightenment that can be found through yoga and healthy living.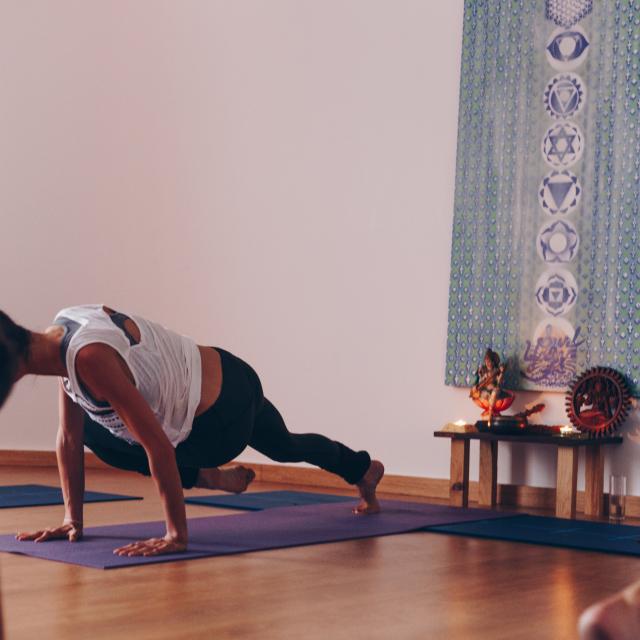 Hatha Yoga / Vinyasa Flow
Hatha Yoga is a potent alignment-oriented practice that emphasizes the forms and actions within yoga postures. Traditional asanas are held in accurate alignment. Emphasis is placed on core strength, flexibility and balance as well as concentration and breath control. This class is based on asanas, deep breathing, mindfulness and listening to the body.
Vinyasa Flow synchronizes breath with movement in a dynamic and energetic class, awakening your strength, energy and flexibility with a mindful and conscious breath. Explores complex movements and sequences including arm balances and inversions layered over solid foundations. These classes may incorporate deeper backbends, hip opening, twists, and forward folds.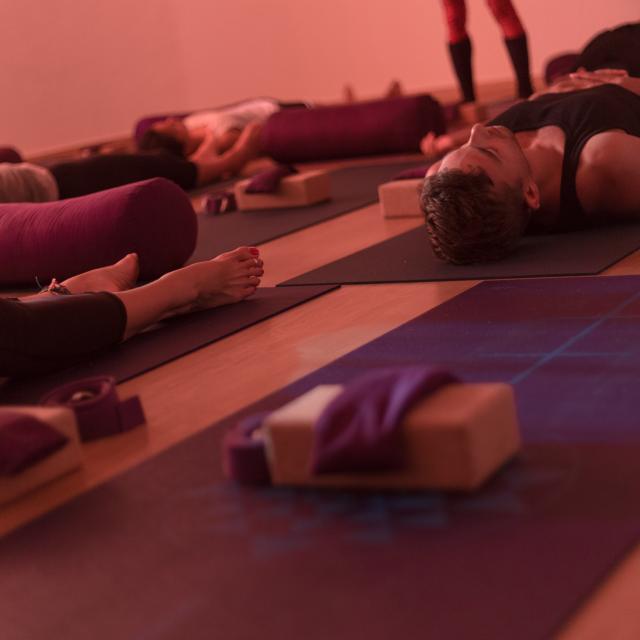 Yin Yoga / Restorative Yoga
Yin Yoga invites you to slow down and create space for stillness while nourishing joints, ligaments, tendons and fascia. Yin is yoga at its coolest, deepest, quietest, stillest moments. This class will have you on the floor most of the time, using as many props needed to create as little effort while holding poses. Poses are held for 2-5 minutes allowing joints and fascia to release. This class will complement your morning practice and will open and release areas in need of more stretching.
Restorative yoga uses props such as bolsters, straps, blocks, eye pillows and blankets are used to fully support the body, allowing it to open slowly and naturally with no effort. Concentration is on the breath, allowing for a deep introspective class which restores energy to the body and calmness to the mind. Our bodies have an innate ability to relax given the right circumstances. These restorative yoga poses with strong emphasis on complete muscular relaxation and comfort will calm and reset your entire body and mind to prepare you for ultimate relaxation in Savasana.
Daily Schedule
Yoga is an ancient system that offers a way to experience increased health, well-being, and inner peace. All classes are based on the classical tradition of uniting the movement of body and breath with mindfulness, having a strong emphasis on Pranayama, Asana, Savasana and Meditation. All the mats and props are available for free use at our Shala.
The 2 Daily Yoga classes, which have the duration of 1h30, are derived from traditional Hatha Yoga / Vinyasa Flow (Morning Class) and Yin Yoga / Restorative Yoga (Evening Class).
Morning class 8am to 9.30pm
Monday Hatha
Tuesday Vinyasa
Wednesday Hatha
Thursday Vinyasa
Friday Hatha
Saturday Vinyasa
Sunday Hatha
Evening class 6pm to 7.30pm
Monday Yin
Tuesday Restorative
Wednesday Yin
Thursday Restorative
Friday Yin
Saturday Restorative
Sunday Yin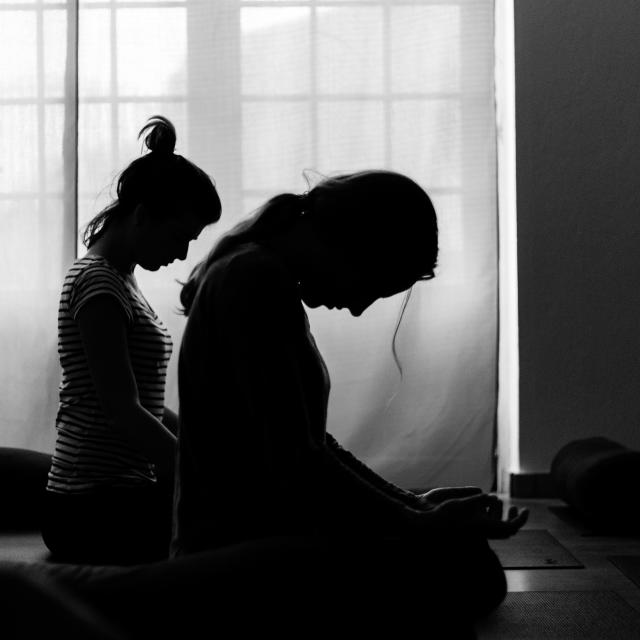 Meditation
Meditation is a means of transforming the mind. It can help us develop concentration, clarity, emotional positivity, and a calm seeing of the true nature of things. By engaging with meditation practice you learn the patterns and habits of your mind, and cultivate new, more positive ways of being. With regular work and patience, such experiences can have a transformative effect and lead to a new understanding of life.
There are 2 classes per week, being the schedule open and changing weekly. In our introductory classes we teach two traditional Buddhist meditations:
Mindfulness of breathing to develop awareness
Loving-kindness meditation or Metta Bhavana for positivity
Group Retreats
Every detail that is important and meaningful to you is of importance to us. We understand that with every group there are different ideas, preferences and tastes. To customize your Yoga retreat in Ericeira, we can be flexible with group organizers and our experienced and attentive staff can arrange a variety of activities, such as meals, massages, shuttles, additional classes or sessions to make your program effective and your student's experience magical.
We understand the commitment and preparation required for facilitating a successful retreat. To support you in the organisation of your retreat we provide you with the following services:
Management and staff support.
Assistance with arranging unique activities and tours to complement your retreat program.
Facilities that make teaching and learning an enlightening experience.
Vegetarian food with necessary dietary modifications as needed for your students.
Assistance with transportation to and from Lisbon airport. For more information on planning your own retreat at Surf Yoga Portugal, email us at [email protected] or call +351.912849626.
Ericeira World Surf Reserve Spots